ASK ANNA
Tuesday, August 16th, 2011 at 9:26 pm
Lillian T. – Twin Falls – Idaho
I would love to wear leggings but don't know what to wear them with. I'm rather thin, should I wear them with a short or long top?
Anna's response: Lillian, I'm sure you look great and you could definitely wear leggings. However, leggings are not pants and would not be very flattering to wear with anything short. They are similar to thick tights.I recommend wearing them with a skirt, dress or any mid thigh tunic and pairing them with flats, boots or low heel.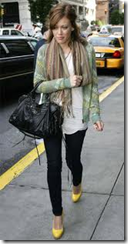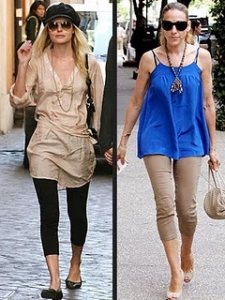 Andrea S. – Lexington – Kentucky
I bought on sale this summer a trendy yellow top but have not been able to wear it. It completely washes me out. What would you suggest?
Anna's response: Yellow is a difficult color to wear for many. In general, if you purchase something that does not suit your coloring, try to wear a flattering color near your face. I recommend wearing a scarf or jewelry in a color which suits you best. The compliment to yellow is violet so I would wear an accessory with a muted shade of purple. You can also pair it with green or orange depending on your complexion. Enjoy your new purchase.
Glenda L. – Phoenix – Arizona
Apparently high waist flare denims are coming back this fall. I wear a size 12, can I still wear this style?
Absolutely. Fit is far more important than size. I would suggest a denim with a more relaxed fit in the thighs. You can pair the denim trousers with a tank or tee and blazer or tucked in with a blouse and thin belt. Consider wearing heels with the pant instead of flats. Balance and proportions are important.
For all your Fashions Questions, Ask Anna.
Tagged with: denims • fashion • leggings • style • wardrobe
Filed under: Ask Anna • General • Wardrobe
Like this post? Subscribe to my RSS feed and get loads more!