Sunday, April 27th, 2014 at 3:28 pm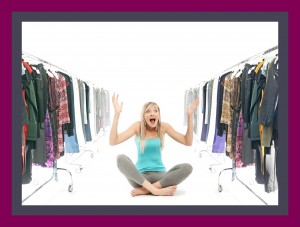 Now that you have organized your closet (previous blog) it is time to tackle your wardrobe. Editing your wardrobe takes time and patience but the result is worth it. If you need assistance and a boost, a Wardrobe Stylist can help you.
You have probably already heard that 80% of women wear 20% of their wardrobe. Your goal is to wear 100% of your wardrobe. You always want to feel and look your best. Here are a few simple steps to edit your wardrobe.
Streamline your closet to keep only the items that make you feel comfortable and fabulous.
You may want to edit your wardrobe twice a year in fall and in the spring. Start by sorting your items into categories:
KEEP – All items that suit your lifestyle and your body type. These pieces should be a perfect fit, color, style and of good quality. Read the rest of this entry