Thursday, April 24th, 2014 at 10:19 pm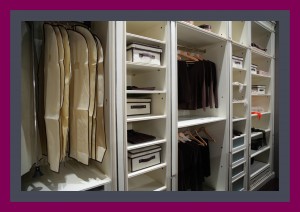 I have been editing wardrobes and styling for quite some time. The main complaint is that the closets are full of clothes but women don't know what they have. I know it can seem like a daunting task but learning how to organize your closet is the first phase.  If you don't want to tackle the task on your own, a wardrobe stylist can help you with the process.
Wouldn't you love to transform your closet into your own "Personal Boutique". Neat, organized and inspiring. Here are a few tips which can help you.
1.Make it bright and appealing -I like a bright color closet so everything stands out
2.Light it up – Adequate lighting is essential. In some areas, I use battery powered lamps that you can find in dept stores.
3.Pristine  – Coordinate your hangers, in the same color. I suggest either plastic or velours which are less space consuming. I use wooden hangers only for my coats and jackets since they are sturdier.
4.Organize – Group your garments by category, jeans, dresses, blouses…and by color from light to dark. Read the rest of this entry