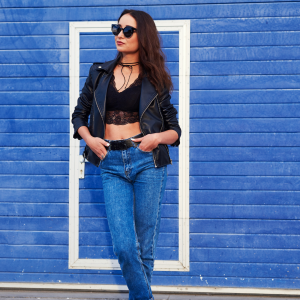 Everyone can look amazing in jeans if they find the right fit to feel confident and beautiful. Over the years, denim has evolved into the most versatile item of clothing in your closet. Every woman needs a great pair of denim, the indispensable wardrobe item. It is a challenge to find the perfect pair and many factors come into play. So once you have found the brand and style, stick to it. You will feel like a new woman. Herewith a few tips on how to find the perfect jeans.
= The stretch enables the jean to hug you in all the right places. It also allows jeans to rebound better after multiple wearings without the binding of a non-stretch. I cannot believe we wore denim without stretch! I prefer a 1 to 2% stretch for comfort. If there is too much stretch, the fibers with the wash and wears will eventually loosen up and you will get saggy jeans.
= 30% of women don't know their vertical body proportions (whether they are short or long waisted) If you have a long torso and short legs, you will prefer a high waist to trick the eye and give more visual leg. If you have a short torso and a large bust, a mid rise waist is going to look much better.
= Consider your shape for the best fit. Unfortunately, not every jean will fit every shape
= Back pockets are important because depending on how big, large, or far apart they are, they change the way your behind looks. Nobody wants to look like they have a droopy bum!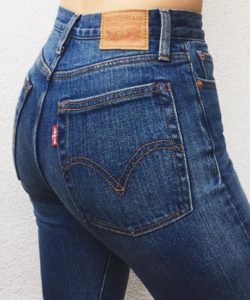 = The wash indicates where and how to wear them; Dark washes to black are more versatile in general and can be dressed up or down to convey a more polished and or professional look.
= A medium blue wash is great for a more casual look
= Very faded jeans are not as popular nor classy
= Distressed jeans are best if you are under 35 years old.
= Overly ornate designs, glitter, studs, are best for teenage girls
= Do alter your jeans. Wearing jeans that are too long will not only look messy but it will make you appear shorter.
= You will look larger by wearing a size too large or too small.
The secret is try, try and try all styles and brands until you find the one that suits you the best. I hope these tips on how to find the perfect jeans have helped you. Here's to looking Fabulous.
We all deserve an Amazing looking Bum!
Be Fabulous!