HOW TO TRAVEL LIGHT
Friday, January 25th, 2013 at 8:05 am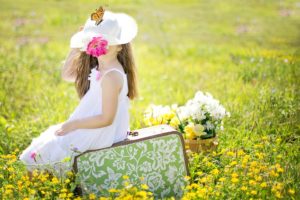 How to travel light with everything we need.
When planning a trip, our TO DO list is already so long. Packing is just ONE MORE  thing  to do! Are you one of those people who tries to jam their entire closet in one suitcase? Sits on the luggage  to close it? or do you bring 6 suitcases for a 2 week car trip?
Years ago I remember going on a business trip abroad and realizing upon arrival that I had hung my jackets on the back of my bedroom door. I did not have one complete business suit. Things are easily forgotten if you do not take the time to plan it out.
WEATHER FORECAST
Always check the weather forecast. There is nothing worse than packing for the wrong season and not being comfortable.
"The coldest winter I ever spent was a summer in San Francisco." While this was attributed to Mark Twain, the source of these words is unknown. Due to the fog, the summers are chilly in San Francisco. Not knowing this would make the stay miserable so it is important to check the weather prior to traveling.
ITINERARY AND ACTIVITIES
Check with family and friends or business associates what activities are planned. How many dinners or outings – Will you be going to the museum, baby-sitting, shopping, sporting events, business meetings etc… It is much easier to plan when you know your needs.
MAKE A LAYOUT
I am a woman of lists and plans. I just can't live without. Make a travel packing list of everything you need to cover all the activities. Build a clothing capsule, 8 to 15 items that  can be mixed and matched.  Bring breathable and wrinkle-free fabrics, as much as possible. Select a neutral color as a basis for the capsule. Each item should be worn at least 3 times. This capsule was done with a neutral color of navy for a one week trip. These are only a few of the options that are possible.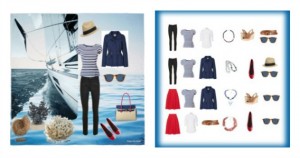 Items that will not be put in the clothing capsule:
Consider the work out gear separately with a change in easy overnight wash & dry fabrics
One travel outfit that  will be worn to and from the destination.Travel with your bulky items on and wear garments that can be layered for comfort.
A cross body bag is the best solution for travel as it is hands free
A small clutch for evening
Sleepwear/Loungewear
Undergarments
Use travel pouches for packing to limit wrinkles and organize your suitcase
Get miniatures of all your favorite beauty products
Always pack the heaviest items on the bottom of the suitcase. Roll all tank tops and tee shirts and place tissue paper or plastic bags between items to avoid wrinkles.
Try the formula on your next trip, you will be amazed. I would love to hear your comments.
More tips to come soon regarding "Packing for Travel". In the meantime, for all questions, Ask Anna For Beauty and Fashion Tips, subscribe to our newsletter Subscribe to our Newsletter
Tagged with: easy travel • How to pack for travel • kansas city • Packing list • travel light • traveling
Filed under: General • Wardrobe
Like this post? Subscribe to my RSS feed and get loads more!