How To Wear Leggings For The Holidays
Tuesday, December 11th, 2018 at 11:36 pm
How should you wear Leggings for the holidays? You have certainly heard me talk about leggings at length. Wearing super tight leggings with a short top is far from attractive. Let's face it, nobody wants to see your anatomy. Most leggings are actually just tights without feet . They rarely have the quality and thickness of a pant. They were initially made for athletics and dance and not for the "public" eye!
However, worn the proper way, leggings can be very chic and so comfy. They remain casual but you can glam them up a bit for the holidays. Not all parties or family reunions this season are dressy but you still want to look cute and festive. All these items are my Fabulous Finds from Amazon.com at incredible prices. Always consider the size guide before purchasing. You will find examples of How to Wear Leggings for the holidays here below. All the items can be found on Amazon.com at incredible pricing.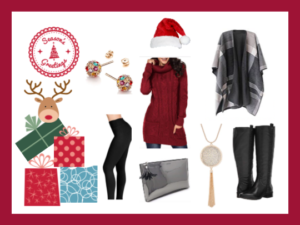 1. Satina High Waisted Leggings
HIGH WAISTED WAISTBAND – The SATINA Comfort High Waistband Leggings are a must have. The high waisted waistband comfortably hugs everything in for that sexy hourglass shape. You can also move freely knowing that the high waistband will keep your leggings in place and avoids any unwanted sagging.
A Stylish and Warm Turtleneck will look great and will accompany  you on a cold day!
3. Sam Edelmans Knee High Boots
Elegant riding boots are a great complement to your wardrobe for the fall and winter. Invest a little more in your boots as you will keep them for a long time.
4. Miss Short Hair Womens Printed Shawl
Stylish knit poncho wrap can be worn as a scarf, sweater cardigan, jacket, cloak, fleece, coat, shawl, wrap or cape. A versatile piece in your wardrobe
5.Siarola Multi-colored earrings
These earrings can be worn on a daily basis with all your wardrobe. Don't keep your jewelry for only special occasions.
6.Funky Junque Metallic Clutch
The trendy sleek envelope clutch pairs perfectly with a little black dress, maxi dress, long or short romper, and skinny jeans!
This piece will give the finishing touch to your outfits.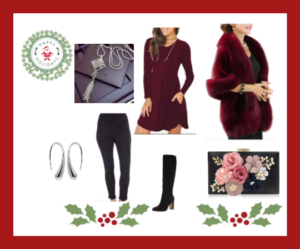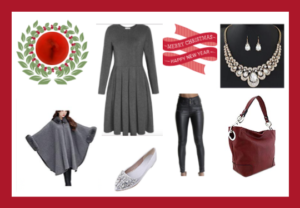 1. Weintee Women's Casual Sweater Dress –  A flowy dress that flares out and hits at the knee.
"As an Amazon Associate, I earn from qualifying purchases"  I will always try to find the best quality/price ratio for you.  
Enjoy the Holiday season and Party on!
Tagged with: amazon • fashion • Holiday wardrobe • leggings • Leggings For The Holidays • Trans-women
Filed under: Wardrobe
Like this post? Subscribe to my RSS feed and get loads more!