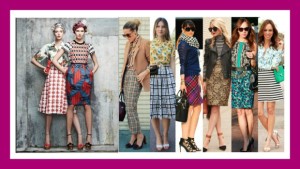 HOW TO WEAR PRINT AND PATTERN; You have certainly seen the models on the runway wearing and mixing prints. It's always bold and dramatic but then again it is a Runway Show, not a "How to Style Guide".
Whether you are wearing patterns, buttons or accessories, keep in mind your style and body scale. If you are petite, you don't want to wear a large print or bulky buttons that will overwhelm you nor do you want to wear small prints if you are larger. Think of your body proportions.
When mixing prints always remain in the same color scheme. If you have a purple, blue and green skirt, you can pair it with a blouse of similar color in a different print.
If you have a triangle figure, the larger part of your body is on the bottom, you will wear the least bold print on the bottom. For instance, you will pair a herringbone skirt or pant with a bolder print on the top.
Below, you have 2 outfits, one pencil skirt with a diagonal pattern which slims your hips paired with a polka dot sleeveless top. The blouse can be worn out with a belt. The second color block skirt black and white has a similar blouse. The bolder pattern on the top is balanced with the white horizontal stripe on the skirt. Both outfits can be worn with the red cardigan to add a pop of color. Experience with color and prints and have fun!
Dot Bow shell – $78.00 White House Black Market
Polka Dot Ruffle Blouse $82.00
White House Black Market
Red Rose Button cardigan – $78.00 White House Black Market
Ann Taylor
Crossing Paths print skirt $88.00
The Limited Color Block skirt
$69.90

White House Black Market
Embossed bangles $34.00 – Textured cuff $38.00