Spring-Summer 2019 Trends
Tuesday, January 29th, 2019 at 3:08 pm
Have you been following the Fashion blogs for the Spring-Summer 2019 Trends and colors?

The four major fashion capitals of the world are New York, London, Milan and Paris and each city holds fashion shows twice a year.
There is always a big fuss about the Fashion shows and new collections.
So much work is involved for thousands of professionals in the fashion industry. However, in terms of fashion shows, each designer has approximately 10 minutes to show his/her collection with compelling elements that will inspire, excite so that the main trends of his/her collection will be remembered. So it has to be dramatic and theatrical!

As we can see, the Spring-Summer 2019 trends will be joyful, uplifting and bold with 12 top stand out colors and 4 classic foundation neutrals. From neons to pastels, bold and rich hues that are almost autumnal as well as earth tones for sophistication and simplicity.
The main colors that stand out are pinks and yellows. As for the trends, fashion is a constant come back. Some of the trends were popular last year and return with a little tweaking!
DRESSES – will be all about frills, bows, layers, ruching and ruffles. Everything we need to conceal our little imperfections. However, as you can notice, waists are cinched this season and the fabrics are very feminine.
PLEATS – Knife pleats are all the rage, short, long, culottes, very edgy or just a glimpse, always elegant and sophisticated.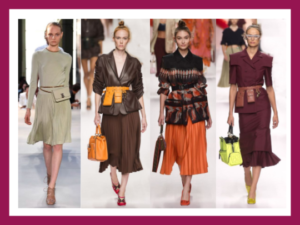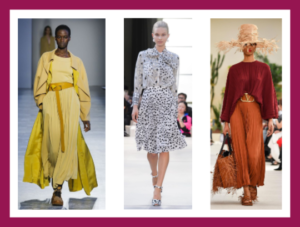 PRINTS – Some prints such as the polka dots and the animal prints have become staples and we will see plenty of those this Spring. As well as the scarf print that was popular through the 70-80 and 90s. As for the mix of prints, they have gone wild on the runway!
SHORTS – At last, we have some reasonable lengths this season vs the mini shorts of last summer. Also, because athletic wear has made it's way into our everyday wardrobe, the Biker Short will be popular.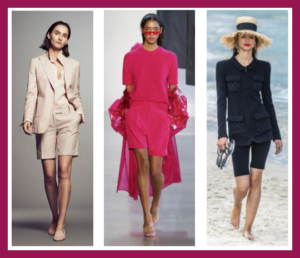 UTILITY WORKER – We will see Belted Trousers, jackets in khaki and jumpsuits that fall between the Safari and Military look. Although not very practical to wear, there will be a lot of jumpsuits this Spring and Summer.
Some of the other trends are Oversized Hats, The Hippie Chic, Fringes and Feathers of all kinds.
Ready to wear is going to be Fabulous this season. Not all trends will be wearable for everyone. Find your style, your color and see how you can incorporate them into your existing wardrobe. Can't wait to see the sunshine against these vibrant colors!
Anna Mc Connell
Tagged with: 2019 colors • dresses • fashion • pleats • prints • ready to wear • shorts • Spring-Summer 2019 trends • style • Trends • utility worker • wardrobe
Filed under: Wardrobe
Like this post? Subscribe to my RSS feed and get loads more!