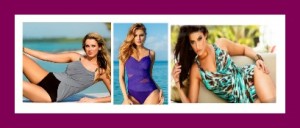 Shopping for the best swimsuit for your body type can be a nightmare. Of course we want it all, to look great, feel confident and sexy. You can accomplish this with a little patience and a few tips. The indications below are for women of all sizes whether you are small, average or plus size.
The goal is to balance your figure to be in proportion.
IF YOU ARE A TRIANGLE SHAPE, your hips are larger than your top.
Avoid a one piece, monochromatic bathing suit that will accentuate this shape. Instead you will want to enhance the top and play down the bottom to balance out your shape.
Opt for a halter top, bandeau or V neck with embellishment, ruffles, ruching, pattern or underwire to create the appearance of a fuller bust.
The bottom should be simple and a dark color. A high cut will elongate your leg and a low cut will camouflage your hips. This really depends on your size and height.
Avoid at all cost the skirt that reaches the larger part of your thighs or with a ruffle, it only makes you look larger than you are.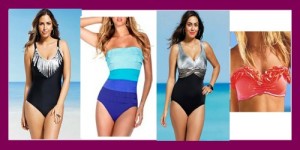 IF YOU ARE AN INVERTED TRIANGLE SHAPE, you have strong shoulders and thinner hips. On the contrary you will want to simplify the top and wear the pattern and detailing on the bottom half of your body. You can wear a one piece bathing suit with a V neckline to minimize the large shoulders. This will also elongate the body.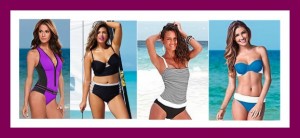 IF YOU HAVE A RECTANGULAR SHAPE, you have a boyish straight figure. Your shoulders and your hips are of a similar size with little definition at the waist. You will want to create the illusion of curves or hourglass figure. To do so, I recommend a one piece bathing suit with cut outs on the side or color blocking which will both create definition at the waist.
You can wear a diagonal pattern or a top with embellishment. Avoid a square neckline or horizontal lines which would enhance the straight figure. A wrap style will also be a great fit.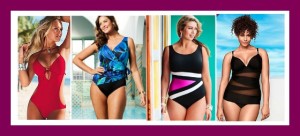 IF YOU ARE AN HOURGLASS SHAPE. You will want to maintain the balance you already have. No need to mix and match a two piece bathing suit. You can wear an all over pattern or color. A one piece bathing suit with a distinction at the waist, such as a belt or contrasting color will enhance the defined waist. A high waisted two piece with a pattern will do the same. Colorblocking with side panels, side cut outs or diagonal pattern will also be very attractive.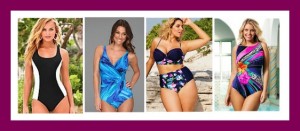 AND FOR THE LADIES WITH A TUMMYa, there are many solutions with control panels and fabrics such as Spanx or Miracle Suit.
Ruching on the front side panel, a one piece swimsuit with pattern or a high waisted bikini will help conceal your tummy. I love the longer tankinis with a top that has an overlapping effect. Diagonal patterns or a fitted bustline and a flowy drape in front are also very slenderizing. Avoid all shiny fabrics around your waist.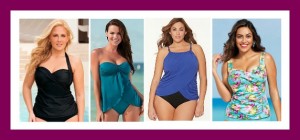 IF YOU HAVE A SMALLER CUP SIZE opt for underwire, padding and embellishment.
FOR A LARGER CUP SIZE, one word SUPPORT. Halter tops or large straps will give you a better fit. Surplice or wrap styles in a dark color are also good solutions to minimize.
Always opt for the next size up in swimwear. It will give you added length and not added width.
Once you have determined your shape, the task of finding THE best swimsuit for your body type will be much easier. Enjoy.
Show off your amazing body and be Fabulous!