Confused about Business Casual? Quite understandable.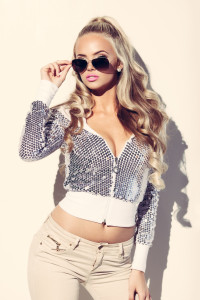 In the USA, business casual originally began in the late 1950's with a following of only a few companies. In the late 1970's, Casual Friday became a weekly event. This trend was later confirmed with the .com era. Today, we have chaos as nobody really understands Business Casual and it's rules.
Business Casual does not mean sloppy weekend wear, it is merely a more relaxed way of wearing formal business attire. It should also never apply to attitude, respect or manners.
Casual is usually untailored, unstructured with lighter colors and no collar.
Business casual on the other hand has structured lines, is tailored, has a strong contrast of dark and light colors and includes a collar.
One thing to keep in mind is that if we can wear it to the beach, the club or at home, then it is not appropriate for the office.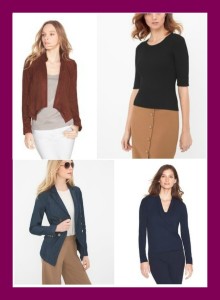 Every industry has a dress code. Some are more casual than others. For a creative industry, advertising or fashion, we can be more trendy except at sales or executive level. Then the power suit is expected.
The finance, insurance and legal industries have always been more conservative.
If your company's dress code allows denim then choose a dark wash in a style that fits your body type.  Jeggings, embellishments and low rise are not options, keep it classic. Denim paired with a silk blouse and a blazer will be elegant and attractive. A neutral color blazer is a wardrobe staple. Whatever you wear, you still need to show your credibility and professionalism.
Fit is essential. It is always recommended to go up a size and have it altered for a perfect fit.
Trousers should be fitted, not baggy or tight
The skirts should not be binding, at knee level or just above
We should always be able to close our jacket comfortably (and not let those buttons pop)
White House Black Market  as well as Dillards have some great options for Business attire. 
It is important to think about the message your appearance is giving. You want to show people who you really are.
Have a Fabulous day!