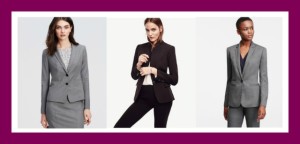 Is a Power Suit important? Today's business arena is much more competitive and demanding than it was years ago. Knowing the industry's requirements and how to market oneself is imperative. The amount of people with the same education and skill set is much greater therefore the competition more fierce.
The way we look and present ourself will affect the way we are treated. So we should consider our wardrobe as an investment for a maximum return.
The way we dress reveals a lot about our beliefs and our self esteem. We should dress according to our goals.  Looking for a new job? A promotion?  The perfect suit  will get you there.
Knowing our style and body type is essential.
The business attire should:
Identify what we do, when possible
Establish our authority
Reveal our level of success
Select a skirt or pant suit in a neutral color or small pattern. When we do not have an extensive wardrobe, a skirt or pant will be more versatile than a dress suit.
The skirt should be at knee level or just above and comfortable when seated.
For a more professional look, wear sheer color hose
Comfortable and conservative shoes are a must. Open toed shoes should be avoided in a formal environment
Fragrance should be limited as not everyone appreciates the aroma
Wear conservative jewelry to avoid distraction
It is important to be true to our personality. We can look professional and credible without looking severe.
For a more casual or creative environment,  bolder patterns or brighter colors can be worn.
Would you like to walk into each day confidently knowing you look your absolute best? Follow me on  Facebook for weekly tips. So what is your POWER SUIT?