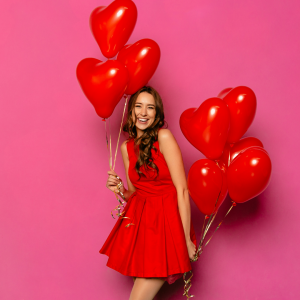 Whether you like the idea of celebrating Valentine's Day or not, it's always a great excuse to go out with your loved one or a friend.
Here are three things to consider before heading out the door.
These are things I work on with my clients so they are never caught off guard. They have everything in their wardrobe for any activity or event.
1- Formality of the evening
Will it be casual or more formal? Even if you decide to have a romantic dinner at home, you still want to look sexy and attractive.
What do you have in your wardrobe that you can repurpose?
With my system, my clients can repurpose to mix and match with different elements of their wardrobe.
Recently a client wanted to wear one of her dresses but they had decided on a more casual dinner. We added a belt to the dress, found a short and fitted leather jacket with flats and it was perfect.
2. What color should I wear? I am asked this all the time.
Did you know that there is actually a color dress code for Valentine's Day that is used all over the world to indicate your relationship status.
Pink for instance says that you are engaged
Purple – You are single but not open to romance!
Colours we wear share so many things about us without having to speak a word.
3. Also Don't adopt a new style for the occasion, be yourself
It's all about attitude, so you have to wear something that makes you feel good and comfortable with who you are. Confidence is beautiful.
Sometimes we go shopping and see a new trend on a mannequin that looks amazing. It doesn't necessarily mean it will look good on you. I love skinny jeans and cropped tops but that would not be a good look on me.
Don't forget your accessories, it completes the look. It's the frosting on the cake that allows you to express your personal style.
Whatever you are doing, going out for pizza, an elaborate dinner, to a movie or spending time at home, enjoy!
Until then, be Fabulous