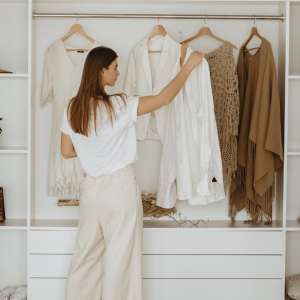 Givenchy, the French designer said "all a woman needs to be chic is a raincoat, 2 suits, a pair of trousers and a cashmere sweater".
Most of us are so far beyond this. As a stylist, I have reorganized many, many closets over the years.
Going through your closet can be very emotional.
It questions your self image or the person you thought you were.
As well as Your body image – We get older and our body changes.
The clothes act as a security blanket.
It reminds us of special moments, happy times or how thin we were. One of my clients, at the age of 40 was still wearing her high school sweatshirts. She was lucky they still fit but they were no longer fresh and a bit outdated. For many reasons she could not get rid of them so we had them all cut out and made into a comforter that she uses at home. I thought that was a cute option.
It also brings out the guilt of wasting money and admitting we were wrong about certain purchases
When my clients call me
= They are generally overwhelmed and think it will be too time consuming
= They believe they will wear the items again in the future
= They don't know what to keep or what they need for a basic wardrobe
= Or they don't yet have a clear picture of their clothing personality
We go through all of these aspects together.
But when the closet is reorganized,
= They regain control and make space for better things
= It empowers them to have a wardrobe that represents them now and in the future – It's more difficult to do if you keep looking at the same things over and over again that no longer suits you.
= It simplifies the dressing process
= You release outdated expectations
= It reduces excess spending and impulse buying – You have probably bought items that when arriving home you had nothing to wear them with. It unfortunately happens all the time.
When shopping with my clients, I always have a clear plan and wardrobe in mind. If it doesn't fit their body type, lifestyle or personality, they are not buying it!
= and most of all it releases emotional anxiety
The goal is to create a peaceful and relaxed state of mind and environment and I have found that reorganizing your closet certainly helps.
Have a Fabulous day,