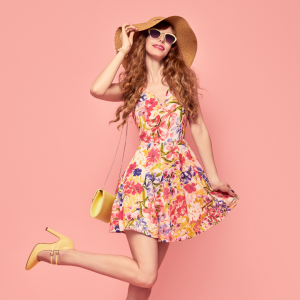 When women hear the word Petite, they often understand tiny. It actually means "small" when translated from French.
However a "petite" refers to the proportion and fit and not the size. A petite woman is 5.4ft and under but it refers to any body shape.
If you are petite, you are, in terms of proportions in your clothing.
The sleeves will be shorter, the rise of the pant shorter and the skirt length as well.
But you may be 5.6 with short legs and find that a petite trouser fits you best.
Or you are 5.6 with a short torso, perhaps a petite top or jacket will fit you better. This has been the case for me at several occasions.
I was shopping with a client who was petite and had an hourglass figure. We were looking for a gown for a formal event.
Here are a few of the questions I guided her through as a professional stylist
= If we were to choose prints, Which print would be best for her frame ? We know that prints should be in scale with your body frame.
= Which color would be best for her skin tone?
= Which neckline would give her an elongated look?
= The choice of jewelry
= Or how to highlight her best assets
We finally chose a straight one shoulder gown, in midnight blue that showed off her curves. She looked absolutely breathtaking.
Some women find that they need guided attention and this is what I do.
Also as a Transformational Coach, when working with my clients, how they feel about themselves and how the world sees them is very important to me.
I make sure that their image is in line with the message they want to convey.
Even during this pandemic, I am prepared as I have always worked with clients virtually.
In fact, keep your eye out for a new fitting guide I will be releasing shortly.
Since we are not able to shop physically, this guide will assist you with your on line purchases.
Whether your sister's wedding has been rescheduled for the fall, you wish to purchase summer shorts or update your wardrobe, this will help you to shop on line at any season.
Have a Fabulous day.