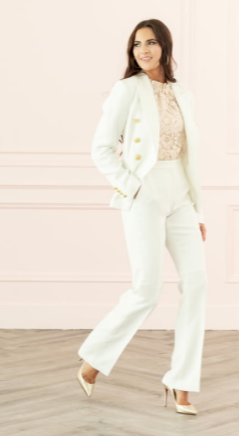 Whether we are living through extraordinary times or generally speaking, I tend to prefer simplicity.
We make it way too complicated.
We purchase items that do not match our body shape, lifestyle or existing wardrobe and then think we have nothing to wear.
Here are 5 essential aspects I go over with all my clients;
1- BODY TYPE – knowing your measurements and body type will determine what best suits you. It also helps you highlight your assets and distract from the parts you like less. This is always the first step of my consultations.
2 – YOUR STYLE – What style suits your personality? All my clients are unique, from Athletic, casual, glam or traditional. Some items are specific to each. For instance you may like the bold pink flowered blouse but if you are more traditional, you will probably prefer a more subdued style, a thin striped blouse to wear with a cardigan.
3 – YOUR LIFESTYLE – I remember shopping with a client who lived in the country with 3 dogs and a horse, did not go out much or travel. She and her husband's favorite pass times were boating, hunting and BBQ's with friends. But she wanted a wardrobe that enabled her to dress quickly, easy to maintain and make her feel good about herself.
When shopping she absolutely loved and wanted to purchase a light apricot color suede dress. I must admit it was gorgeous. The cost per wear of this item would have been very high, even on sale. It really did not fit any of the requirements.
We found a compromise and purchased a suede, shirt style jacket that she could wear over jeans, shorts or eventually a dress when she went out.
4- THE IMAGE YOU WANT TO PROJECT
Who are you?
How do you see yourself? And
How would you like people to see you?
We usually don't discuss this out loud but we all have an image of ourselves.
Are you sending the right message?
Once you understand the image you want to craft, you will purchase items accordingly.
5- LAST BUT NOT LEAST
What does your existing wardrobe look like?
Do you have the necessary items to fit your body type, your style, lifestyle and the image you have of yourself?
Can you color coordinate?
Can you mix and match?
I recently did a Virtual CLoset Edit with a client. From 36 quality items, we created a wardrobe of 552 outfits. It's incredible what you can do by adding color and accessories strategically.
So now it's time to get creative with your wardrobe!
Have a fabulous day.