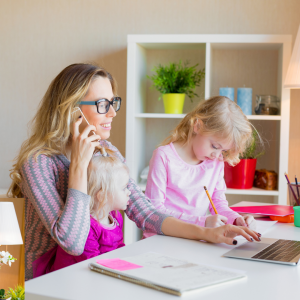 I have been working from home for many years.
After working in Corporate where I felt I had to wear a business suit everyday, I was kind of out of sorts. The transition took some time.
Tell me Do you feel as professional and productive when you are not dressed the part?
I must confess I wouldn't feel as professional if I was dressed in yoga pants. I am sure I am not unique in that regard, I would love to know your thoughts and how you feel.
I believe it also influences my mood. There is something to be said about getting up, getting dressed and putting on makeup. I feel as if I am ready to attack the day and it gives me a sense of purpose.
We always hear, I want to be comfortable but don't we always? Whether I work one on one with a client, go shopping with a customer or work from home, I never find myself saying I think I'll dress uncomfortably today! The goal is to be professional when need be, feel attractive and ready for anything that arises. In all cases we want to feel comfortable. The important thing is to be "Your" comfortable, and find what suits you.
Here are a few things I've noticed over time, when working from home;
PRACTICALITY
Whichever clothing you choose to wear, it should be pretty resistant to wrinkles, stains and easy to move in. Especially women working from home, we need to care for the children, the occasional load of laundry, the rambunctious family pets (I know, I have two) and family life. So you want to be able to move freely in your clothing and be at ease.
SCHEDULING
Most of us usually do much better with a framework and guidelines. I must say this was a struggle for me. Not that I was disturbed in my day, but I could never stop. I literally had to be dragged out of my office.
Set office hours for yourself and inform your family so everyone knows mommy is working and cannot be disturbed for the next hour or two.
Perhaps there are little things or chores that your children can assist you with. This gives them responsibilities and purpose.
Whether you work from home on a general basis or temporarily , we need to keep the balance in our lives and scheduling is a great way to do that.
SHOPPING IN YOUR CLOSET
This is the perfect time to look in your closet, sort, organize and find those treasures long ignored.
I have recently done a virtual closet edit with a client. We went through her closet which was not very large but we were able to identify 32 quality items that fit her perfectly. By using my signature system, we had a capsule wardrobe of 448 options.
It's incredible what you can do by changing accessories and adding a little color.
What she has gained from this process was huge,
She has a stress free wardrobe
Whatever her needs, She can dress in minutes
She will not be shopping for a very long time therefore saving money, this is a huge bonus.
And she looks and feels amazing every time.
How about you? Have you shopped in your wardrobe lately?
What did that look like?
Have a Fabulous Day!