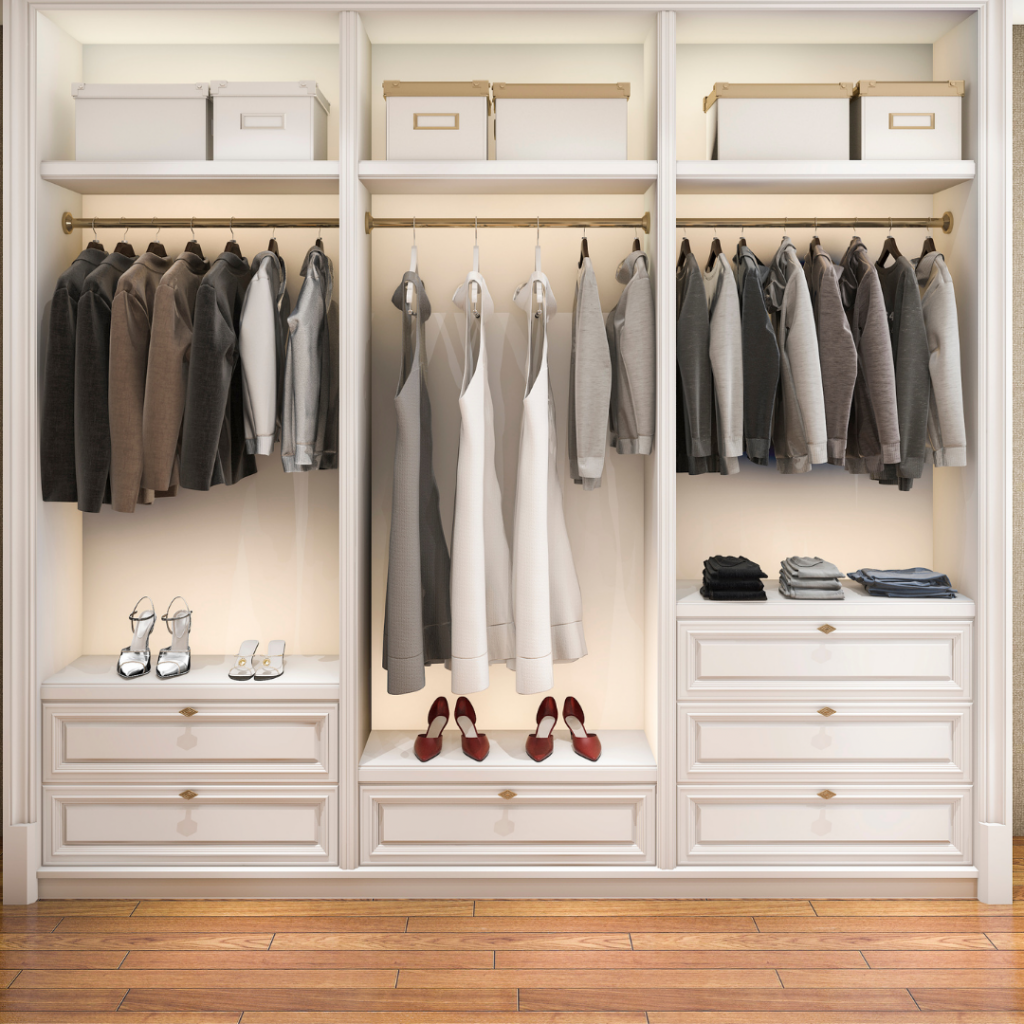 I have been editing wardrobes and styling for quite some time. The main complaint is that the closets are full of clothes but women don't know what they have. I know it can seem like a daunting task but learning how to organize your closet is the first phase.  If you don't want to tackle the task on your own, a wardrobe stylist can help you with the process.
Wouldn't you love to transform your closet into your own "Personal Boutique". Neat, organized and inspiring. Here are a few tips which can help you.
1. Make it bright and appealing -I like a bright color closet so everything stands out
2. Light it up – Adequate lighting is essential. In some areas, I use battery powered lamps that you can find in dept stores.
3. Pristine  – Coordinate your hangers, in the same color. I suggest either plastic or velours which are less space consuming. I use wooden hangers only for my coats and jackets since they are sturdier.
4. Organize – Group your garments by category, jeans, dresses, blouses…and by color from light to dark.
5. Separate – Just keep the essentials for the season in your closet. Store all other, out of season clothing, in another closet. It will be much easier to see what you have and need.
6. Protect – Place all jewelry in clear boxes or hanging organizers. Silver, gold or metal jewelry does not tarnish as quickly when stored adequately. Stones also keep their shine and beauty when kept away from dust. You can find the organizers at Steinmart, Staples or Amazon.com. Clear boxes are available at Michaels as well.
7. Box it – Place your shoes in transparent boxes or in hanging canvas organizers. Choose the best option for your closet and space available. You can find these at Ikea or the Container store.
I store my boots in the original box and place a photo of the boots on the side of the box. When out of season, I store them away in a "winter closet".
8. Fold when possible – I do not recommend hanging all your items. Sweaters and Tee's need to be folded to avoid stretching. You can find hanging canvas shelves at the Container Store or place them on a shelf with dividers.
9. Shelf it – Place your bags on shelves with shelf dividers. I stuff mine with a piece of foam from a fabric store. It will keep the bags from slouching. Use a basket for your smaller items such as purse straps, wallets, glasses and clutches.
10. Miscellaneous Items – Keep a transparent hanging cloth bag for safety pins, a lint roller, bra tape and other essentials. When purchasing a garment with buttons, you often get an extra one. You will find that a box for all your extra buttons can be helpful. This will avoid changing all buttons when you are missing just one.
11. Practical – A hamper is essential in your closet as well as a step ladder. Make the most of your closet space, vertically.
12. Belts – If you have the space, a peg board for your belts is very practical. If not a basket or a clear drawer will be great.
13. Scarves – I like to see all my items in one place. I have my scarves and shawls in plastic drawers, rolled tightly which avoids wrinkles.
This was the first step to organizing your closet. Once this is done, you will be able to see what you have and edit your wardrobe to keep only the items that fit perfectly, make you feel sexy and fabulous.
I hope these tips will be of help to you and I would love to hear or see what you have done with your closet.
Send your photos and comments HERE