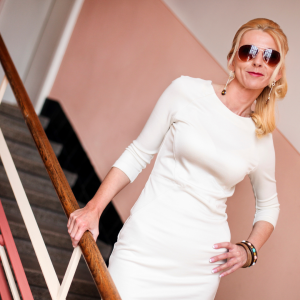 Many women come to me because they are frustrated by the trends and clothing choices they find in store.
Unless you spend your day at the gym, you don't have the same body you had in your 20's. Time, pregnancies and /or menopause tend to take a toll on our bodies.
On social media earlier this week, I was asking what aging gracefully meant to you.
For me, it means being more knowledgeable, wiser, having more patience. Appearing younger is not a goal, I just want to be the best version of myself.
I would not trade all this for the body I had in my 20's. I didn't have the confidence I have today, nor the life experiences.
So how can you look fashionable at any age? By following my ABC's
1-ACCEPTANCE AND ATTITUDE
Age is just a number. You are what you believe yourself to be. It's all about attitude. If you say to yourself, I'm old, you will likely act and dress like it.
Accept your age but don't dress like the 20 year old. It will look like you are trying too hard. Besides the 20 year old will always win, we cannot compete, nor should we want to.
However, you can take care of your health and wellness, mind and body. The happier and more fit you are, the more radiant you will appear.
Also, take care of your skin.
Do you have a beauty routine? If not create one. Your face is the first thing people see and remember. Your smile and your eyes tell your story.
I've learnt to live in the moment, be active and spend time with people who make me laugh, are positive and support me. That is my motto!
2- BALANCE
Whatever your body shape, remember to balance your proportions.
Your body is unique, no one else's is like yours. Understanding how to dress your body will help create a flattering look every time.
How do your shoulders relate to your hips?
Do you have a defined waist?
Once you figure out the particulars of your shape, you will know what you should enhance or minimize for a balanced figure.
3- CLASSIC
Classic is not frumpy and old fashion clothing! It doesn't have to be boring.
It means Opting for simple lines, couture details, structured items and better quality tailoring. This will make you look youthful and elegant.
Classic styles flatter many shapes. Besides, you won't need to update your wardrobe constantly. They are timeless, for instance a sheath dress, an A line skirt or a straight ankle pant, can be worn anytime,
Classic also means dressing differently at an older age.
What does your décolleté look like?
with sun damage and time, it may not look as youthful.
Check the length of your skirts and dresses.
Sometimes just an inch up or down can make a world of difference.
And lastly, does your style represent who you are today? Your style should evolve with your age.
You can turn heads at any age, be elegant and chic!
Have a Fabulous Day.