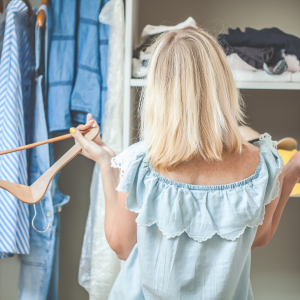 It's that time of year to tackle your wardrobe. Editing your wardrobe takes time and patience but the result is well worth it. If you need assistance and a boost, a Wardrobe Stylist can help you.
You have probably already heard that 80% of women wear 20% of their wardrobe. Your goal is to wear 100% of your wardrobe. You always want to feel and look your best. Here are a few simple steps to editing your wardrobe.
Streamline your closet to keep only the items that make you feel comfortable and fabulous. You may want to edit your wardrobe twice a year in the fall and the spring. It is best to plan some time when you have energy and in good spirits. Grab your favorite drink or cup of coffee.
Start by sorting your items into categories;
ITEMS TO KEEP – All items that suit your lifestyle and your body type. These pieces should be a perfect fit, color, style and of good quality.
ALTER – These garments just need a little tweaking for a good fit. Maybe you have a dress that needs to be shortened for a more updated look, or a change of buttons on a jacket. A seamstress will be your best friend. A simple hem should not be more than $15.00 to make a world of difference.
DONATE – These are all quality items that you no longer wear but are good enough for another home. There are many organizations that will gladly take the clothing. Dress For Success collect professional attire. Check for other charitable organizations in your community.
CONSIGN – Do you have items that you have never or seldom wore? They are the wrong color, wrong fit or style? Consignment and resale shops will take these items and give you a certain percentage back when they are sold, between 40 to 60% of the sale price. They need to be given to the shop clean, pressed and on hangers. Buying consignment is also a great option for basic or trendy items. Consider purchasing your camisoles, brand name jeans or blazers from consignment. The location of the shop is important for best choices.
SWAP – You may have pieces that you no longer wear but you have trouble getting rid of. Get a group of "Fashionista Friends" together and swap your clothes, bags and accessories. It's fun and you may find a treasure you cannot live without.
TRASH – These pieces are faded, no longer appropriate and have served you well. Also when you update your wardrobe with a new piece, discard one of lesser quality. Your wardrobe is not extensive and you need space for your fabulous finds.
STORE ALL ITEMS
That are not of the current season into an alternate closet
That have a sentimental value that you wish to keep but do not wear; The wedding dress, the dress you wore on your first date or to your son's 1st birthday do not belong in your closet. Space is limited and precious!
You may have put on a few pounds lately and have items that no longer fit in your wardrobe. This is very demoralizing. If these are quality items that you wish to keep, have them cleaned, pressed and store them away. If they are not worth keeping, send them to a better home and make room for better options.
Once you have gone through this first phase, you are now ready to create your wardrobe. In your keep pile, determine the foundation pieces. The objective is to make as many outfits as possible. Include the accessories, jewelry, scarves and shoes. This is the cheapest and easiest way to update, dress up or down an outfit.
This will help you determine what you are missing in your wardrobe and to make a list. Bravo! you are done. Now the fun starts!
You can start working on your Capsule Wardrobe.
xoxo
Anna