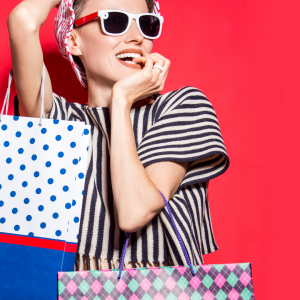 So, what should you know about shopping? The average household spends 5% of their monthly income on clothing.
How about you? Do you have a plan, a strategy?
This is one of the services I provide, shopping with and for my clients. They love the fact, for instance, that I can help them build a wardrobe with limitless options.
Here are a few things to consider before heading out the door shopping.
Have you gone through your closet and determined what you needed? I don't know about you but I go grocery shopping with a list and have gotten into the habit of doing the same when shopping for clothing. Therefore, it keeps me focussed on my needs.
Have you determined the gaps in your wardrobe? Where are they? Are they for casual wear, professional or other?
Do you record your purchases? Do you have a "budget diary"? I record everything I spend and include the receipts.
This allows me to make a purchase plan for the following year. Furthermore, it tells me how I purchase, what and when.
When shopping, consider
Does it fit your lifestyle and activities?
If you are no longer working perhaps your business suits are no longer necessary. You can wear the suits as separates and pair your jackets with jeans or take to consignment.
If you are retired and golfing, or traveling, your wardrobe will be totally different than when you were working.
It may be time to make room for the new chapter of your life.
Does it fit your body type?
Knowing your body type beforehand is essential. This will determine which styles best suit your shape. Furthermore, you will realize what you want to enhance or conceal. A pear shape will not wear the same thing as an inverted triangle.
What is your color scheme?
The garment should suit your skin tone as well as the color scheme of your wardrobe.
All items should work together and complement each other.
Your personality?
The studded leather jacket may be very cute and appealing but will you ever wear it if your style is more preppy and Ralph Lauren than rocker.
Do you like the item?
How does it make you feel? We always have an emotion, a feeling tied to a purchase as well as a reason.
Can you picture yourself wearing it and in what capacity?
How many outfits do you think this will work with?
For an efficient wardrobe, you want to be able to mix and match.
Is this garment a foundation piece or a trend?
Knowing when to save and to splurge is important. Will you be wearing it for years to come or is it a trend that you will discard after the season? When you have a limited budget you want to buy wisely.
Consider the cost per wear. Is this a garment that you will wear often?
If the cost is 50$ and you wear it twice a year for evening, it will cost you 25$ each time.
In contrast, If you think you can wear it for evenings and transition it to daytime at work, then it may be worth considering the purchase.
The objective is to create an efficient wardrobe that works for you so you can focus on other things of your life.
Simplify and enjoy!
Have a Fabulous Day,