Sunday, July 13th, 2014 at 8:02 pm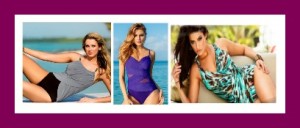 Shopping for the best swimsuit for your body type can be a nightmare. Of course we want it all, to look great, feel confident and sexy. You can accomplish this with a little patience and a few tips. The indications below are for women of all sizes whether you are small, average or plus size.
The goal is to balance your figure to be in proportion.
IF YOU ARE A TRIANGLE SHAPE, your hips are larger than your top.
Avoid a one piece, monochromatic bathing suit that will accentuate this shape. Instead you will want to enhance the top and play down the bottom to balance out your shape.
Opt for a halter top,  bandeau or V neck with embellishment, ruffles, ruching, pattern or underwire to create the appearance of a fuller bust.
The bottom should be simple and a dark color. A high cut will elongate your leg and a low cut will camouflage your hips. This really depends on your size and height. Read the rest of this entry